Puppies
Sub-links for this page
STOP PRESS
BEWARE, WE HAVE BEEN ADVISED OF A SCAM ADVERTISING AIREDALE TERRIER PUPS IN THE TRADING POST (VICTORIA) USING ATCV BREEDERS DETAILS.
PLEASE BE VIGILANT WHEN LOOKING FOR A PUPPY (7th August 2017)
Buying an Airedale puppy (See below for breeders with pups available)
Airedale Terriers are highly intelligent, adaptable and have a great sense of fun. Virtually non-shedding, they are tolerated by many allergy sufferers. They can and do make excellent family pets, companions and show dogs. If this is the right breed for you, here are some basic tips before purchasing:
Contact the Airedale Terrier Club of Victoria for a list of responsible breeders on the Club's Breeders' Directory; these breeders are experienced in providing family pets/companions, as well as potential show dogs and, who abide by The Airedale Club and VCA codes of ethics.
Note, not all breeders on sites such as Gumtree or DogzOnline qualify for ATCV's Breeders' Directory
Not all ATC Vic. members who breed Airedales, are members of the ATC Vic. Breeders' Directory as it is not an automatic entitlement.
Health considerations: Airedales have few health issues, and breeders should be happy to show the results of any health testing carried out such as HD hip score reports of both parents.
Ask if this breeder is experienced in grooming, trimming Airedales – including hand stripping and, is he/she able and prepared to teach you if required?
Should you choose to show, is this breeder able to assist with ring training and general show advice
Is this breeder forthcoming in providing information on ATC Vic. membership and activities should you wish to connect?
Check that the pup comes with an Australian National Kennel Council State body such as Dogs Victoria (Victorian Canine Association) pedigree/registration, is vaccinated and micro-chipped.
Ask the breeder about Main Register and Limited Register. Make sure you know which your pup will be on and why. If you are interested in showing you must have a dog registered with canine association on it's MAIN Register
ATC Vic Breeders' Directory members should be happy to discuss any relevant queries you have.
---

Breeders' Directory 2018
AIREDALE TERRIER PUPPIES ARE AVAILABLE FROM MEMBERS.
(Breeders listed below have qualified for and subscribed to the ATCV's Breeder's Referral Service)
Please note we are now able to include Interstate Breeders who meet our requirements on this list.
Breeders, please advise the Webpage administrator when your litter is sold. Listings will be removed 8 weeks after they are published unless you advise puppies are still available.
Breeder

Prefix

Contact details

Puppy availability
(as advised)

David & Dianne Barclay (Vic)

Yorkpark

(03) 9735 1416

Puppies Due early December


Bob & Nessie Brooks
(Vic)

Clydebrook

0455 719 268 or (02) 6072 5481

Puppies Available

Maree & Geoff Carroll
(Vic)

Ingalou

(03) 9439 9494

Lyn & Colin Duff
(Vic)

Airewood

(03) 5166 1549

David Dunne & Cathy Gale (Vic)

Thurwill

0419 090 209

dunne2112@icloud.com

Susan Enders

(Vic)

Tildee

(03) 5902 6179 or 0402 265 732

susan1swd@gmail.com

Margaret Fittler
(NSW)

Driesdale

0417 854 462

Jan & Peter Hatton
(Vic)

Bushveldt

(03) 9408 1343

Keith & Trish Lovell
(Vic)

Tjuringa

(03) 5627 8110 or 0419 231 129

Kellie & Clinton Miller
(Vic)
Daigumsan

0437 199 989

Ron & Anne Sorraghan
(Vic)

Oldiron

0417 331 603

Suzanne Tennant
(Vic)
Yeloman

0428 661 997

​Puppies Available

Sue Wilson
(Vic)

Trumps

0401 468 138

Puppy notifications: Puppies are usually available to go to homes eight weeks after the litter is born, deposits are usually necessary to confirm a purchase and hold a pup.
For breeders:
When notifying email airedaleterrierclub.vic+admin@gmail.com with relevant dates, email (most reliable option) and mobile if you want them listed. Please check that numbers etc are up to date and inform webmaster by email when changes are required. Litters will be removed 8 weeks after your notified date unless you let the Webmaster know that you still have pups available.
Breeders listed above may or may not have puppies
Where we are advised the puppy due date or availability is noted.

Warning!!! Pups are being sold in Victoria claimed to be Airedales that are not registered with Dogs Victoria and The Australian National Kennel Council. In some cases the parentage is uncertain. In some cases hip scoring Xrays, as expected of ATCV Members, have not been carried out. In some cases these puppies may have one or both parents that were purchased from legitimate breeders. Breeders who show their dogs commit to the breed and learn the art of breeding, raising, training, grooming etc. and will usually assist you by sharing their skills and their knowledge. Our breed has avoided puppy farmers in this country for over 100 years. Let us keep it that way. The ATCV Inc. can however take no responsibility in any arrangement between you the buyer and a breeder.
| A litter of 2 week old Airedale Terrier pups | An 8 week old puppy |
| --- | --- |
Puppies at Play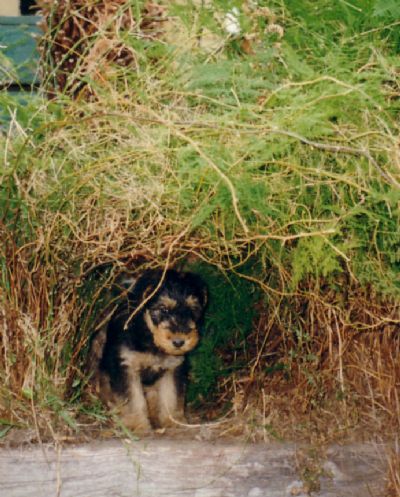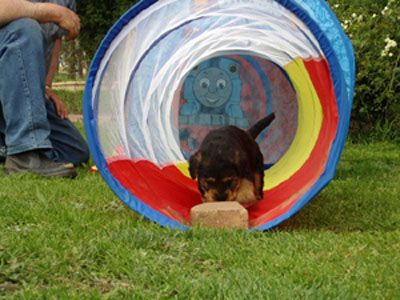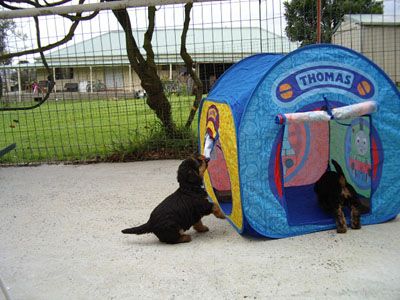 ---